Last night, I visited an old friend who is very sick. I had lost touch with her for the past 3 years or so. I had no idea that she was sick or how bad it was. I am extremely grateful that I was able to see her again.
And it got me thinking…
How many of us are so busy "making a living" that we forget to enjoy our lives? That we rush out the door without giving hugs and saying "I love you?" Are we so busy that we can't take the time to sit, uninterrupted with our spouses and simply talk for an hour?
We lose touch with friends and it's normal because we're all so busy. Busy busy busy.
What does it mean to be live by your values?
I heard this quote in a book and it stuck with me…
"On the one hand, we all want to be happy. On the other hand, we all know the things that make us happy. But we don't do those things. Why? Simple. We are too busy. Too busy doing what? Too busy trying to be happy." -Matthew Kelly
At the end of life, what will you wish you had spent more time doing? Working? Dishes? Or spending time with the people who matter most? Because NOW is the time to start do those things so that you don't regret NOT doing it later.
Living by our values means spending time on what truly matters to us– like the stuff that will matter to us at the end of our lives (hint: it's not the dishes).
Check out my related post: How to Manage Your Time So You Always Have Time for What's Most Important to You
I know it's not easy. You have a million things pulling you in different directions every day. Bills, paperwork, grocery shopping, laundry, work, errands, birthday parties, meal planning— it can be overwhelming. But our never-ending to-do lists shouldn't keep us from what's most important.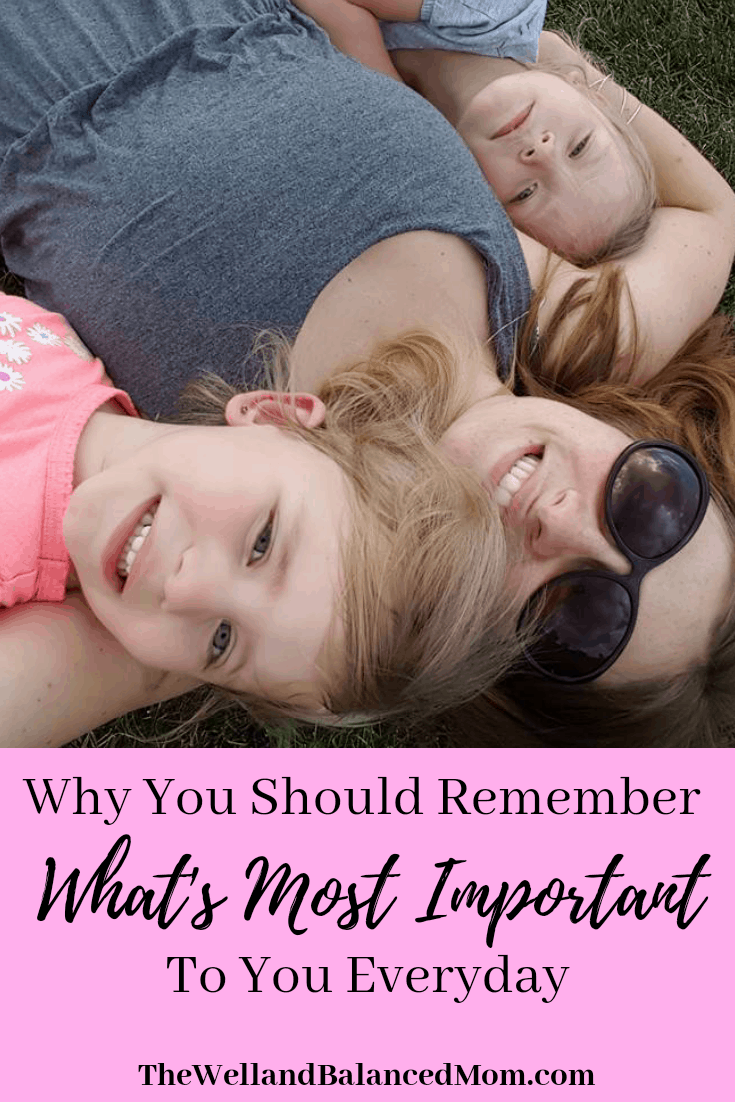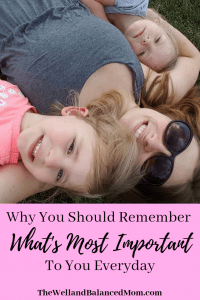 Schedules are your friend
If you need to, schedule in time for your family. Make a monthly date night non-negotiable. Block out an afternoon for uninterrupted time with your kids. Plan a girls' night to catch up with friends. Do the things that are most important now. Don't expect to be able to do those things "someday." Make time for them today. Your life is happening right now. Not someday. Not "when everything settles down." Now.
You may also enjoy my post: Are Your Big Dreams Ruining Your Life?
What is important to you that you haven't made time for lately? How are you going to change that starting today?
"Things which matter most must never be at the mercy of things which matter least."
-Johann Wolfgang von Goethe
---
Did you know that we now have a Facebook community? You can join us here.
If you're seeking more wellness and balance in your life, check out my FREE 5-day life coaching course "Finding Wellness and Balance as a Mom!" You can sign up here.
If you're looking for some personalized help, I am now offering a 12-week life coaching program. Email me at mand[email protected] to get more details and get started!