Are you a busy mom looking for some work-at-home opportunities?
When you're a mom, sometimes working seems like a lose-lose situation. You lose time with your kids and you lose money from your paycheck to childcare.
And if you have more than one child, forget it. Daycare costs force many otherwise career-driven women to stay home because it doesn't feel like it's worth it to work.
But what if we have goals like getting out of debt or saving money for our kids' college? It can be hard to reach financial goals on a single income or even on two incomes while paying for childcare.
Or what if some of us want to be stay-at-home moms but are already living paycheck to paycheck with two incomes. Or, maybe we want to take care of our kids most of the time, but we don't want to fully give up having a career? There is a way you can have both!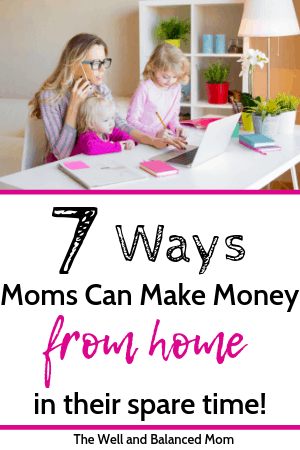 Enter work-at-home opportunities.
This post contains affiliate links. If you make a purchase, I receive a small commission at no extra cost to you. You can read my full disclaimer here. Thank you for your support!
Now more than ever, thanks to the internet, working at home is possible. Here are some work-at-home ideas for busy moms:
1. Network Marketing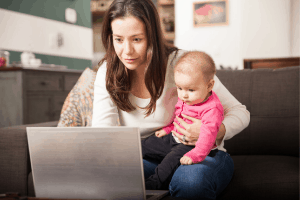 Have you seen an influx of moms posting on Facebook about their amazing makeup line, skincare routine, or daily workouts? Network marketing has exploded in popularity with moms because it gives them a chance to work at home, choose their hours, and earn unlimited income.
Also known as multi-level marketing or MLM, this type of business once held stigmas that are disappearing (although some people will never change their minds).
I'll admit, I once threw around the term "pyramid scheme" and later realized that I had no idea what I was talking about. Many people are now recognizing MLMs are legitimate businesses with non-traditional structures.
Instead of paying the overhead for buildings, hourly wages for employees, and for costly advertising, MLM businesses pay distributors and depend mostly on word-of-mouth referrals.
Network marketing is a great opportunity for moms to earn some extra cash for their family. You can sign up with some companies and be making money as soon as the next day.
Many successful network marketing moms have earned full-time incomes and some even retire their husbands from the workforce. There are no guarantees, of course. But if you love the product you're selling and you work hard to build genuine relationships with people, you'll end up making some extra money to support your family.
Pros: You have no boss, no set hours, and no income limitations. Hopefully, you'll also receive help from an upline who wants to see you succeed. If you represent a good product, customers will reorder, which means you'll earn residual income without needing to do more work. (I'm still making over $100/month and I haven't been active in my network marketing company for over a year!)
Cons: You won't receive a set paycheck and it usually takes some time to get your business off the ground. You also have to follow your company's rules and regulations. Some people report not making much money with network marketing, so it's important to do your research. Sign up with some trustworthy and successful.
My advice: If you want to get started in network marketing, find a company with products that you love.
When you truly love something, you'll want to share it and you won't come off as "sales-y." Be aware though, network marketing is no get-rich-quick scheme. Like anything, it takes work and usually, there is a buy-in.
Also, as I mentioned above, when you're "networking," be authentic and focus on filling a need. Don't send out hundreds of cold messages on social media, because that's only going to get you blocked (and you'll probably feel icky about it). Be yourself, post about your product (but not constantly), and continue to cultivate genuine relationships with people.
2. Life Coaching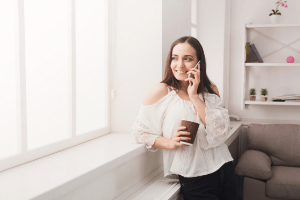 I started my work-at-home life as a network marketer. It was a great experience for me, but I decided later that it was not what I wanted to do long-term. I loved helping people, and I wanted to continue to work for myself. After some research, I decided to become a Life Coach.
Life coaching is a great opportunity because it's affordable, easily accessible, and doesn't require a 4-year degree. If you've considered going into counseling, but don't want to go back to college, this may be a perfect fit for you.
Life coaches are not counselors, but they learn some similar skills and are able to help people one-on-one or in a group setting.
There are lots of online coaching universities that you can look into. I chose Integrative Wellness Academy because I loved their holistic approach. They teach you to help your clients move towards balance in all four parts of self: mental, emotional, physical, and spiritual.
They also use an inside-out, outside-in approach to wellness, which means that you encourage clients to work on internal issues while addressing surface-level behaviors, instead of one at a time. This approach is simple but comprehensive, and extremely effective.
IWA's course was very affordable (especially compared to a 4-year college degree), and I was able to complete it in less than six months. As part of the curriculum, students even receive some business training, so I felt well-equipped to start my business upon completion.
*If you want more information about Integrative Wellness Academy, click here. If you decide to enroll, use the discount code "mandy" to get 30% off the price of your course!
Pros: You are your own boss. You make all the rules. You choose your hours, set your prices, and determine what target market you want to serve. You also get to help people in a meaningful way, while learning to keep yourself well and balanced.
One of my favorite parts of life coaching is flexibility. You can coach one-on-one or in a group setting. You can coach in-person, on the phone, or 100% online. You can even choose to use your training to become a blogger. (Hint: That's what I did!)
Cons: You're a business owner, so you need to learn how to run a business effectively. (This isn't necessarily a con, but it may be for some.) You don't have the benefit of an "upline" as you do with network marketing but if you can always join a community of life coaches on social media.
Once you are an IWA student, you will have access to a very supportive community of other students and IWA instructors online who will guide and support you through the entire process. You can also connect with an instructor to find out more about this program by scheduling a call HERE.
My advice: If you're someone who genuinely loves helping people, life coaching may be just right for you. Find a life coaching course that aligns with your values, and go for it! Expect to take some time building up your business and consider offering a referral incentive for your first few clients.
3. Blogging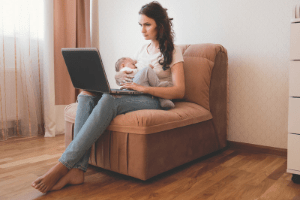 This is my absolute favorite idea to work at home as a busy mom! As a blogger, I get to work when I want, write every day, and share my heart (as long as it's valuable to my audience, of course)! I won't say that it isn't hard work, because it certainly is.
But it's work that I love and enjoy. I don't have to force myself to work on my blog because I genuinely want to do it.
Are you worried that the market is saturated with mommy bloggers? Don't be.
There are literally billions of people online. And you don't need a massive following to make money as a blogger. You just have to add value to your personal audience.
I used to think I couldn't be a full-time writer because what I wanted to write was already written by others who (I guessed) were much more talented than me. This quote, from Elizabeth Gilbert's book Big Magic, changed my thinking: "It may have been done before but it hasn't been done by YOU."
Remember, you have unique experiences, a unique perspective, and a unique voice. What you have to share has not been shared before. So go share it!
Pros: You get to write for a living (yay!), you make your own hours, and you can choose your niche. You also have unlimited income potential. Whether you want to make a few hundred dollars per month or you want a full-time income, it's all possible.
Cons: It takes some time and investment to get yourself started out right. You also need to spend more time learning to market your blog than you do actually working on it, but social media and Pinterest make this easier than ever.
Many bloggers say they don't make much money, but if you get yourself started right and follow the footsteps of successful bloggers, you absolutely can do this for a living.
My advice: There's a lot of advice here because blogging is my favorite thing and my full-time gig! I started my blog a few times in the wrong places and ended up causing myself much unnecessary work and headache. Don't make the same mistakes as I did!
Set yourself up for success by going with a self-hosted site (it's best for monetizing) and use WordPress.ORG. I recommend Siteground for hosting because it's what I use. Their customer service is AMAZING. I am not technically inclined, so I've required a lot of support along the way. Siteground has been wonderful for walking me through everything and helping me with the technical side of blogging.
I also strongly recommend that you take a course on building a profitable blog. There is so much to know and learn. You could try searching Google for all the answers or you could make it easy on yourself and learn it all in one place.
I took a course called Becoming a Blogger. It taught me everything I needed to get started right and it was much more affordable than other courses out there.
If you're serious about building a profitable blog, you'll also need legal protection on your site. I purchased this legal bundle, which included my site's privacy policy, terms of conditions, and disclaimer all drafted by a lawyer. If your blog is your business, make sure you treat it as such and get the right protections in place!
Also, check out these related posts about blogging:
4. Freelance Work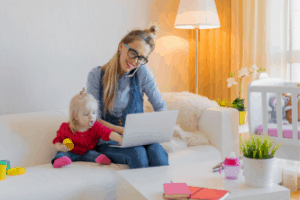 Freelance work isn't for everyone, but it may be just what you need to bring in a little extra money without needing to build a big business. But how do you decide what work to do?
I have always had a knack for grammar, spelling, and general proofreading. I've proofread for employers and for friends.
Last month, I helped a friend applying for her doctorate to edit her admission essay. One day, after reading a few of my fellow bloggers' posts, I realized that I could use that skill to help others and to earn extra income for my family. So, I decided to start freelance proofreading!
Do you have a skill that you already use to help friends and family? Chances are that your skill is marketable! You can be a freelance writer, illustrator, graphic designer, marketer… the list goes on! Do a little research, decide who you want to serve, and go for it!
Pros: You can choose your line of work, who you work for, and what you want to charge. Plus, you get to do work you enjoy.
Cons: Getting started with freelancing can be tricky. You'll want to build a portfolio, which means you may want to start by doing a few free or low-paying jobs. Your pay may be irregular and you'll have to follow up with clients to ensure being paid.
My advice: Always have a contract when doing freelance work. Here's a freelancer contract template (aka independent contractor agreement) you can purchase to make your job easy and be sure that you're legally protected.
It may also help to have a specialty in your field. Being a "freelance graphic designer" is great, but if you're a "freelance graphic designer specializing in logo design," and I happen to need a new logo, I'm much more likely to hire you.
Plus, if I'm satisfied with your work, there's a good chance that I'll refer you to other business owners. Pretty soon, work could be rolling in…all in your specialized field!
5. Transcription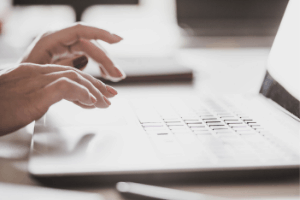 Maybe you're not interested in building your own business or a freelance portfolio. Maybe you just want to pick up some work here and there. Transcription work is a great option and it's easy to find. I love Rev.com.
You can pick up jobs whenever you want them. If you need an extra $50 for the week, you can pick up a few jobs (or one big one) and be paid via PayPal the following Monday. If you don't need money the following week, you can take the week off without repercussions (that's not so easy to do when you're a business owner).
Pros: You can control how much money you make. You don't need to build your own business, you just do the work and get paid. On Rev.com, you can earn the rank of Revver+ by submitting accurate work consistently. Once you're a Revver+, you get first dibs at new projects.
Cons: There's no opportunity for residual income, so your income will be limited. If your house is usually pretty noisy, it can also be difficult to concentrate and complete your work.
My advice: Transcription work can be hard to do when your kids are around, so this is best for nighttime or naptime work. Be aware of deadlines and give yourself more time to complete jobs than you think you'll need, especially at first.
As you get the hang of transcribing, you'll be able to complete jobs quicker. You'll also want to get a good set of headphones.
6. Teaching Online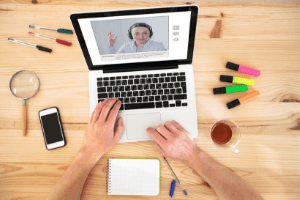 Online teaching is another fantastic way for moms to earn money from home. I have not tried this one myself, but I know lots of moms who use VIPKid to teach English to kids in China. VipKid requires a 4-year degree, but you don't need a teaching certification.
They are a legitimate company, and were even ranked #1 by FlexJobs in Forbes' 2018 "Top 100 Remote Work Companies Report." Other companies you can check out are QKids or Cambly.
Pros and cons: You can choose your owns hours, but there are peak hours, which are usually early in the morning. You'll do better with VIPKid if you're creative and have an animated personality because students are more likely rebook with you.
My advice: If you're naturally great with kids and love spending time with them, this is a great choice for you. You don't have to create lesson plans, you just have to teach! Be patient, because it may take time to get a full schedule. If you can, find yourself a mentor who can help you learn the ropes.
7. Virtual Assistant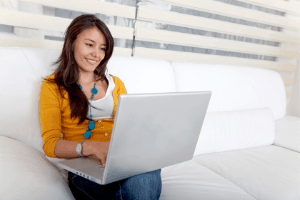 Working online can be time-consuming. Many online entrepreneurs are looking for assistants to help them with their workload. This need has led to a rise in virtual assistants.
For instance, many bloggers enjoy creating content for their sites, but don't have the time necessary to market themselves effectively. If you're willing to learn the ins and outs of the platforms, you could become a Pinterest virtual assistant or you could specialize in Instagram or Facebook marketing.
I see people in my Facebook blogging groups searching for virtual assistance every day, so there is huge potential here.
Pros: You're free to choose your own hours, niche, and pay rate. And if you love social media, you can literally be paid to spend time on it!
Cons: Social media algorithms change frequently, so you'll need to stay up on all the new developments. It may take some time to learn the basics of the business and get your first client.
My advice: I have never been a virtual assistant, but I would suggest finding a course to guide you through the basics. You may find everything you need for free if you're willing to put the time into it, but completing a paid course will shorten the learning curve.
You'll have a higher chance of success if you learn from someone who's been down this road before you. Also, consider teaming up with other virtual assistants. If you have a trusted tribe, you can pass each other work as needed.
What if none of these options seem like a good fit for me?
If you don't think any of these options sound like a good fit for you, check out RatRaceRebellion.com for thousands of legitimate work-at-home job listings.
I purposely didn't include jobs that require set hours, although they are more consistent in pay than the opportunities I've listed.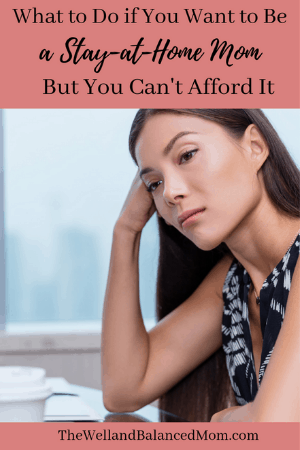 Busy moms don't usually have the time or focus to do many of these types of jobs. It's tough to be on a phone working with customers when your kids are crawling all over you begging for snacks. But perhaps you could answer customer service calls at night when your husband is home.
Of course, building your own business as a life coach, network marketing, freelancer, blogger, or virtual assistant will take more time, but those careers have more opportunity for growth than most work-at-home gigs. But only you can decide what's best for you.
Figure out what works best for your personal situation. There are endless options out there!
What if I'm afraid to fail?
If you're feeling a little nervous about trying something new, think about this… "If you never try, you'll never know." This phrase has become a mantra of mine when I try something new. When I think about that, I'm no longer afraid to fail. Instead, I'm afraid to not know what might have been.
How do I know if it's time to quit my other job?
If you're currently working out of the home, you might be dying to stay home with your kids.
When I was working full-time, working at home felt like a distant dream. I couldn't afford to just quit my job and then start building a home business, so I started building my business while I was still working full-time.
I did this for about two years before I was finally able to quit. It required discipline and sacrifice, but I am grateful every day that I did it.
If you're working full-time out of the home, but you want to be a work-at-home mom, set some clear goals for yourself, so you know when you can quit your job.
My goals were:
Pay off our family's debt except for our house.
Save 6 months of income for emergencies.
Make a steady income with my home business.
Your goals don't have to be the same as mine. For my family, paying off our debt was a priority, because it greatly reduced our monthly payment obligations (by almost $1000/month).
So, we no longer had the weight of debt on our shoulders, and we had $1000 less in bills.
Don't miss my post about how we paid off over $40K of debt!
List out your bills and determine which ones you can eliminate, either by paying off a debt or by going without it (for example, you could cancel cable and just stream through Netflix or Hulu). By getting rid of unnecessary expenses, you'll make it easier for yourself to stay home.
Your goal here is to determine what you need to accomplish to stay home and not strain your family financially. How much money will you need to be making every month with your work from home? What bills will you pay off? How much money do you want to have saved?
List out these goals and keep them nearby, so they stay at the forefront of your mind.
Staying mentally strong as you work towards your goal
After you have these listed out, keep your eyes on your goal. Don't give up when things get tough. Anticipate setbacks. Prepare yourself for the days when you think you'll never make it. Know that those feelings are normal and should be expected, but don't listen to the negative voices telling you that "you should quit" or that "you're just not good enough to accomplish XYZ."
Persevere despite your doubts. Remember all the reasons WHY you are working so hard. If your "why" is strong and you stay focused on it, you can achieve anything. ♥
For more help on overcoming negative thoughts, watch this:
Here are some related posts that you may like:
---
Did you know that we now have a Facebook community? You can join us here.
If you're seeking more wellness and balance in your life, check out my FREE 5-day life coaching course "Finding Wellness and Balance as a Mom!" You can sign up here.
Work-at-home ideas for busy moms