Gifts Busy Moms Actually Want
Are you wondering what the moms in your life really want for Christmas?
Since most of my readers and followers on social media are moms, I asked– and they answered! Here is what real moms want for Christmas this year!
(If you're a mom, don't forget to send this post to your loved ones as a hint!)
This post contains affiliate links. If you make a purchase, I receive a small commission at no extra cost to you. You can read my full disclaimer here.
A Planner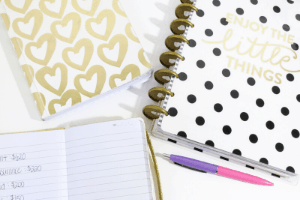 Moms (especially moms who work at home) love planners! Personally, I love to transfer the cluttered contents of my brain onto paper. Planners allow us to schedule our days and simplify our lives. Here are some of the best planners out there:
The Push Journal is the "all-in-one" life planner that is perfect for moms who want a journal that does it all! The Push Journal is designed to help boost your productivity and achieve a year's worth of goals in 90 days! It even has a place to track water intake.
Note: Push Journals are made to be used monthly, meaning you'll need a new one every 30 days. I recommend purchasing the 3-pack to save money!
The Happy Planner was the first planner I used as a business owner. If you want to purchase one planner that will last for the whole year, this is a great and affordable option.
Gift Cards to Shop for Themselves
Moms told me (and I agree) that they rarely are willing to spend money on themselves, despite spending plenty of money on their kids throughout the year. A gift card might feel like a cop-out in some ways, but moms told me that they love the opportunity to shop for themselves guilt-free with a gift card.
If you go this route, buy the gift card from a store you know she loves. Give it with a note that insists she shops for herself rather than someone else.
A Date Night (Bonus if you offer to babysit)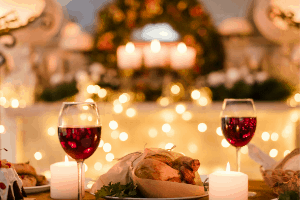 Busy moms rarely get a chance to get out of the house kid-free, so a date night (especially if you offer some free babysitting) is an amazing gift.
Gifting a date night usually includes purchasing a gift card to a restaurant or experience. You can also create a date night basket with some conversation cards, a bottle of wine, and a movie.
Self-Care Items
Some of the most common answers I received when I asked moms what they want for Christmas this year were self-care items. You can purchase a single item or put together a personalized self-care basket. Here are some items I recommend including:
Babe and Body is an amazing company that creates homemade, all-natural scrubs made just for moms! There are too many options to list but here are some of my fav scrubs by Babe and Body!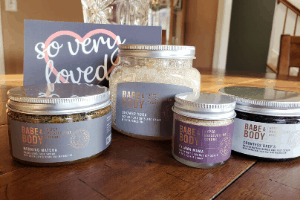 Here are some other items to consider including in a self-care basket:
Candles

Essential oils

A facial mask

Lotion

Bath bombs

Wine

Tea
A Day of Pampering
Another highly requested gift from moms is a day (or hour) of pampering. If you want to treat the mom in your life to something special, consider getting her a gift card for a manicure and/or pedicure or a luxurious massage!
Leggings
Leggings are the foundation of today's mom-ware. They are versatile (can be worn around the house, to work out, to sleep, or to run errands) and they are comfy beyond belief! Check out these highly reviewed leggings from Amazon.  
A Weighted Blanket
Weighted blankets have been all the rage lately. It's no wonder considering they promote better sleep, reduce anxiety and stress, improve focus, and ease symptoms of ailments like fibromyalgia and restless leg syndrome. This is a gift that will keep on giving!
A Luxurious Bathrobe or Pajamas
A new bathrobe topped my list last year (I got one!) and I had many other moms tell me they'd love to receive a bathrobe this year. The gift of a luxurious bathrobe or some new cozy PJs tells the recipient that they are loved and that their comfort matters.
Husbands, consider giving this gift on Christmas Eve.
A Meaningful Piece of Jewelry
Jewelry is a timeless gift. The key to buying jewelry is to choose a piece that means something (trust me, I worked in the jewelry industry for 13 years)!
Here is a post that I wrote with some reasons to consider buying jewelry as your Christmas gift this year:
If you're local to Lancaster, PA, check out Koser Jewelers for an amazing selection of fine jewelry that will leave the mom in your life absolutely speechless this Christmas!
If you aren't from Lancaster, check out KoserJewelers.com.
Kitchen and Cleaning Tools
Kitchen and cleaning tools are a nice gift because they make moms' everyday lives easier. This is an especially good option if you've heard her statements like "I wish I had…" (it shows that you're listening!)
If the mom in your life doesn't have an Instant Pot yet, get that first! Seriously, they are game-changers for moms!
If you aren't familiar with Instant Pots, imagine cooking frozen chicken in 15 minutes and having it come out as if it sat in a slow cooker all day. There's no limit to what can be made in an Instant Pot (even desserts). I can't even remember what I did before I had one.


Other great options in this category:
Stand Mixer

High-powered Blender

Vacuum

Steam cleaner

Roomba
A Travel Coffee Mug
A travel coffee mug is a thoughtful gift for a mom who's always on the go. Several moms told me they'd love to receive a travel mug this year– especially one with a handle. This is Amazon's most popular option:
A Cold Coffee Brewer
Speaking of coffee, moms also told me that they'd love to get a cold coffee brewer as a gift.
Brewing coffee cold is not the same thing as making a hot cup and refrigerating it. Cold brew coffee is less acidic, easier on your stomach, and tastes better than regular "cold" coffee.
I highly recommend Primula Burke's cold coffee brewer. It was rated best overall by Wired.com. It's affordable, durable, and easy to clean (this last one is especially important for moms)!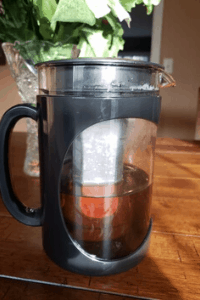 Books or an Audible Membership
If you have a mom in your life who love to read (like me), you can't go wrong giving the gift of books. If you don't know the types of books she'd prefer, you can always opt for a gift card.
Another good option is to gift an Audible subscription. Audible is a service that allows you to listen to books (especially convenient if she's in the car often).
As part of the subscription price, you get one credit towards a free book every month plus two Audible original books.
You can gift Audible subscriptions for one month ($15), two months ($45), six months ($90), or a year ($150).
A Home Workout Subscription or Gym Membership
Resolution season begins right after Christmas, making a workout subscription or gym membership the perfect gift for the moms on your list.
I personally use and adore Beachbody on Demand. It costs $99 for a year of unlimited home workouts. You'll find popular workouts like Insanity, P90X, the 21 Day Fix, and so much more included in the price. Subscribers also get access to new workouts as they're released (like a fun new barre workout coming next year)!
If you think the mom in your life would prefer to get out of the house for her workouts, check out nearby gym memberships. Just make sure they offer childcare if she needs it!
There you have it– Christmas gifts as requested by real moms!
You'll find something for every mom on your list. Happy shopping and happy holidays!!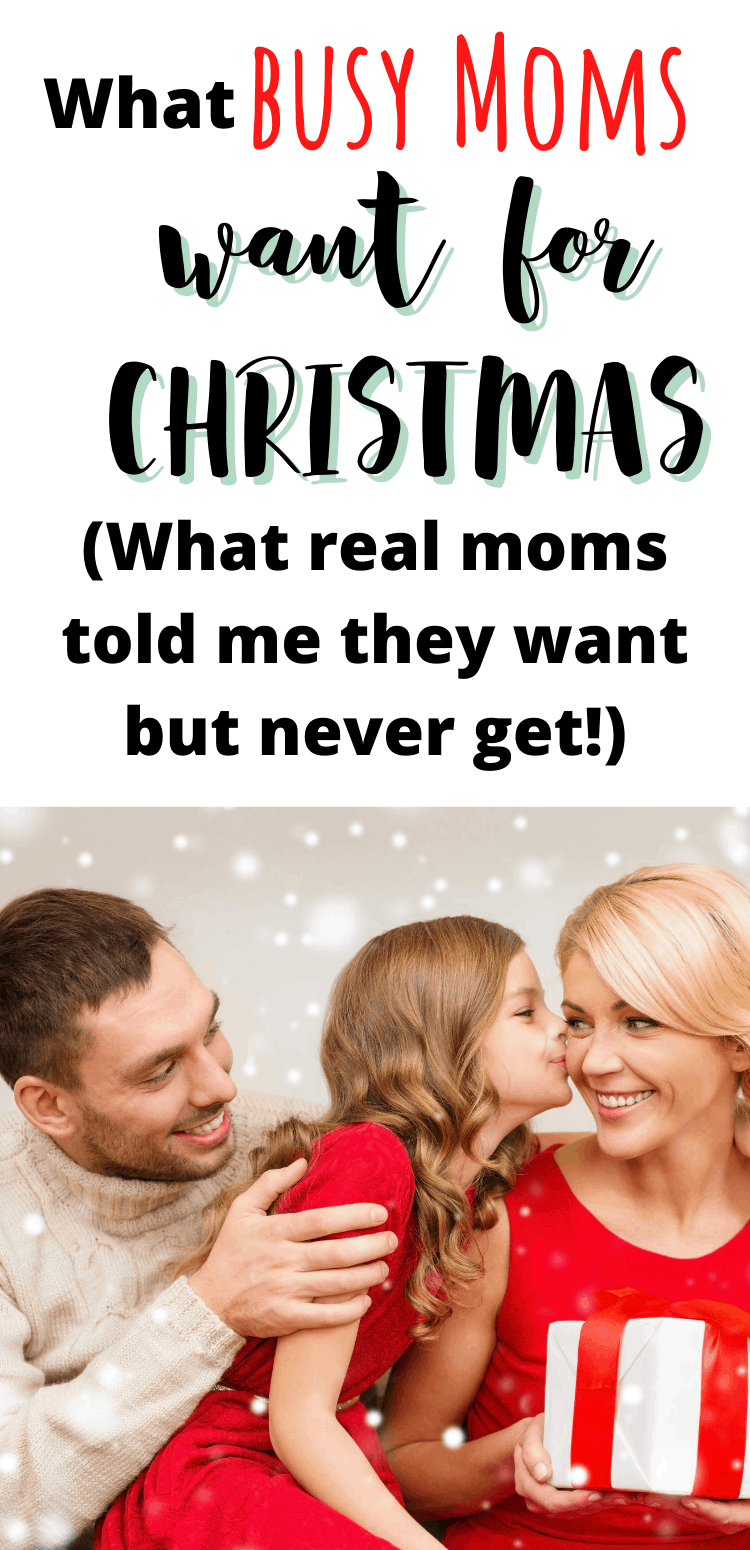 Christmas Presents Requested By Real Moms