This week, I'm thrilled to bring you a guest post from Mamta Valderrama with some fantastic tips about how to meal plan as a busy mom!
I love finding routines that help me manage the chaos of motherhood. Meal planning is a great way to simplify your life as a mom and it saves you time and money too!
Meal Planning for Busy Moms
Meal planning is like exercise. We all say we're going to do it, or we do it for a while, and then, for whatever reason, we stop.
Today's the day! After years of trial and error, here is a meal planning system that will last the test of time. It has 2 parts: menu planning and grocery shopping. You can click site to find out the best grocery shop around your locality.
What You'll Need For Meal Planning:
Paper and pen: This system runs on analog. Give your eyes a screen break, and write your menu and grocery list on good ol' paper. I use an old scrap paper booklet from Michael's that is filled with beautiful paper. It's been sitting in a drawer for 4 years, so might as well use it!
Printer to print recipes. Print them double-sided for easier storage, and to save paper.
A cute 3-ring binder to organize your recipes.
Shelf space in your kitchen or pantry for your binder.
Optional: Divider tabs and plastic sheet protectors for each recipe.
Part 1: Menu Planning
1. Gather Your Recipes.
Find recipes that you and your family will enjoy. Look at blogs, Pinterest, and Instagram. When you find one that you like, don't just email it to yourself or Pin It to a board on Pinterest. Print it and put it in your binder. Otherwise, they just get lost! Here are the number of recipes to print:
25 Recipes for Weekday Dinners
4 Recipes for Weekend Dinners
10 Recipes and Snack Ideas
10 recipes for Weekday Breakfast
4 recipes for Weekend Breakfast
I know what you're thinking. That's A LOT of recipes and A LOT of work. You're right! But you only have to do this once! And it will make more sense in the next step.
2. Organize your weekday recipes in groups of 5.
For example, divide your 25 weekday dinner recipes into 5 piles of 5 recipes. Now you have 5 weeks of dinner recipes! They will rotate like this: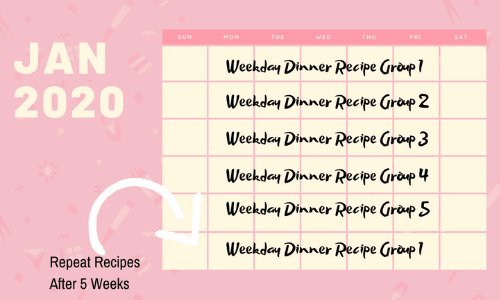 For each week's group of recipes, bundle recipes with similar ingredients. If you're having alfredo pasta with roasted broccoli on Monday, make a vegetable stir-fry on Tuesday so you can use any leftover broccoli.
3. Organize the rest of your recipes the same way:
Weekday Breakfast: 2 sets of 5 recipes that alternate every other week.
Weekend Breakfast and Dinner: 2 sets of 2 recipes that alternate every other weekend.
Snacks: 2 sets of 5 recipes that alternate every other week.
4. Put your recipes in your binder. Label your tabs with your recipe groups:
Weekday Dinner 1
Weekday Dinner 2
Weekday Dinner 3
Weekday Dinner 4
Weekday Dinner 5
Weekday Breakfast 1
Weekday Breakfast 2
Weekend Dinner 1
Weekend Dinner 2
Weekend Breakfast 1
Weekend Breakfast 2
Snacks 1
Snacks 2
5. Feel free to add or reduce the number of recipes in your rotation. Just do it in groups of 5 so each week is complete.
Some assumptions that are made here:
Weekday dinner: your family won't get tired of a meal if they eat it just once every 5 weeks. If you think they will, then add another week's recipes to the mix and space it out as much as needed.
Weekends: You're eating out, invited to a friend's place or a party, or you might have a late lunch and skip dinner, etc.
Lunch: You're eating salads, sandwiches, leftovers, cut fruits and veggies, crackers, and other snacks for lunch. Your dinner recipes can also double up as lunch recipes, too.
Part 2: Grocery Shopping for Your Meal Plan
My weekly grocery list looks like this: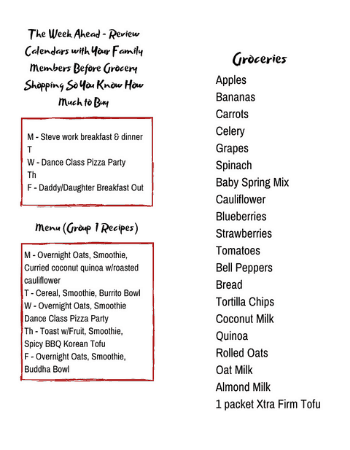 More Meal Planning Tips for Busy Moms:
To save money and avoid food waste, review calendars with your family members before you get groceries so you know who will be home for meals.
As you write your list, visualize yourself walking through the grocery store. It helps to organize your list by sections (produce, dairy, etc), which saves a lot of time! Don't be that person going against cart traffic because you forgot something!
When you're gathering your recipes, pick 30-minute, 1-pot, or other easy meals for Fridays. You made it to Friday! Reward yourself by not getting stuck in the kitchen.
Why Analog vs. Digital Meal Planning?
Because it's a nice break from all the screens in our lives.
You're more likely to remember and stick to your meal plan when you write it out.
If you cook with recipes on a device, It's annoying when it locks in the middle of cooking Yes, the lock can be temporarily disabled, but who can remember to turn it back on every time you cook? Plus, screens are disgusting, so you really should wash your hands after you touch them. This whole process will slow you down in the kitchen, and leave you with dry, cracked hands.
It's incredibly gratifying to scratch off grocery items while you're shopping.
Let the kiddos help you in the kitchen and practice reading the recipe while you cook.
You don't want to be that person, but what if you have to take a call while you're at the store? Multi-tasking is a huge part of mom survival! With a handwritten list, you can shop and talk at the same time.
If You Still Want to Use Your Phone to Plan Your Meals…
Then this hyper-organized, time-saving tip is for you. Use an app like Evernote to write your weekly menu and grocery list. With your recipe bundles, create one note for each week with the menu and groceries. Then customize it based on what's happening in your life that week.
For example: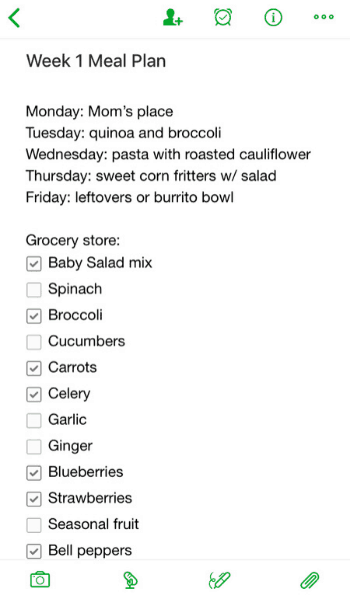 Because the meal plan is set for the week, you know exactly what groceries are required for those recipes. All you have to do is checkmark the items that you need to purchase. Let's say you have carrots leftover from last week, then you just leave carrots unchecked. This saves you time from retyping or writing your list each week. As you shop, uncheck items as you add them to your cart.
In Conclusion:
This meal planning system requires some upfront organization, but after you do it once, it works for months and months! In the end, it will save you time, money, and keep variety in your family meals so no one gets bored.
Happy meal planning!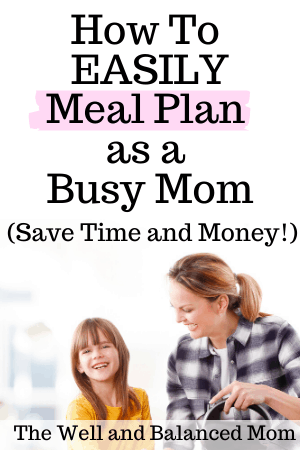 You might also enjoy these posts about balancing your busy life as a mom:
---
About Mamta Valderrama:
Mamta Valderrama is an author, vegan lifestyle educator, and a mom. Her passion is cooking fresh, healthy meals for her family, and using everything in her refrigerator. Follow Mamta's blog at www.ohforplantsake.com and on FB, IG, Pinterest @ohforplantsake.
Meal Planning Tips for Busy Moms