I started blogging seriously in 2018. I had been doing other types of work-at-home jobs, but I really wanted to write full-time. I knew that some people made blogging a full-time job, so I decided to try it.
I made a bunch of mistakes along the way. I've listed the five biggest ones here so you can learn from them and fast-track your path to success.
This post contains affiliate links. If you make a purchase, I receive a small commission at no extra cost to you. You can read my full disclaimer here. Thank you for your support!
1. I set up my blog incorrectly.
I set up my blog in the wrong place three times. THREE!
When I first started, I created a free site on Blogspot. Then I decided to upgrade my site and go with Squarespace. Both of my sites looked nice and functioned well.
But I later realized that the best way to monetize your blog and make it into a legitimate business is to go with a self-hosted site. That way, you own your site and you have more control over it.
I chose Siteground for hosting after reading that it's best for loading speed and overall performance. I can't speak to other sites because I've stuck with Siteground since I started with them. I've had nothing but great experiences with them (and trust me, I contact customer service quite frequently.)
After getting set up on Siteground, I accidentally built my entire site using Weebly, even though I meant to use WordPress (proof that I'm not technically inclined). My Weebly site was nice, but it didn't give me the freedom or the functionality that WordPress does. So, just beware of this. You want a self-hosted site, and you want to build it on WordPress.ORG.
2. I didn't legally protect my blog from the start
When I first started treating my blog like a business, I was discouraged by all the things asking for my money. I started blogging to make money, after all, not to spend it.
I saw several established bloggers write about the importance of legally protecting your site. So, I searched posts on how to write your own privacy policy and disclaimer. I believed I needed the protection, but I didn't want to pay for it.
HOWEVER, I later discovered that these types of do-it-yourself legal statements usually leave lots of holes. In other words, I was leaving myself and my hard work vulnerable.
If you're serious about building a profitable blog, you'll also need legal protection on your site. I purchased this legal bundle, which included my site's privacy policy, terms of conditions, and disclaimer all drafted by a lawyer.
If your blog is your business, make sure you treat it as such and get the right protections in place! It's better to pay and have this done correctly from the start rather than deal with expensive consequences later.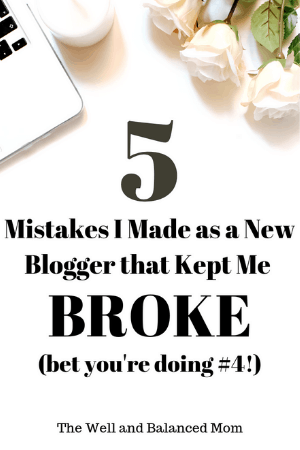 3. I didn't invest in a course from the beginning
When I first started creating my blog, I tried to learn from free resources. There are tons of posts out there about how to start and monetize a blog successfully. But most of those resources were suggesting that I invest in a course, which I was hesitant to do.
If I started over, I would invest in a course right away. It would've saved me from the first two mistakes I listed above, and I would've started on the path to making money quicker.
When I finally realized I needed to invest, I chose Cate Rosales's course Becoming a Blogger. It taught me everything I needed to know about creating a profitable blog. I highly recommend it, especially for the price!
In the next step, I talk about Pinteresting Strategies, the course that helped me finally get serious traffic. Keep reading!
4. I tried to do all the things
This is the mistake that kept me moving at a snail's pace for months. I learned about all the ways I could make money blogging and I tried to do too much at once. I sent out a few pitches for sponsored posts, I did some guests posts, I scheduled pins, and posted daily to Instagram and Facebook. I started an email list and a Facebook group too.
As a result, I felt stretched thin. I was working and working, but I wasn't making any money and my blog wasn't growing as fast as I hoped.
Then, in April, I decided to focus almost exclusively on PINTEREST. I still posted in my Facebook group and sent out a few emails to my subscribers, but I spent the bulk of my time mastering Pinterest with a course called Pinteresting Strategies (this course is different from others out there and it's just SO good).
As soon as I could, I implemented the strategies I learned. I saw a crazy increase in traffic OVERNIGHT. Seriously!
For more, see my post: How My Blog Traffic Exploded Overnight
So, my advice here is to focus on mastering one thing at a time. If you try to do too much, you'll dilute your efforts. Your results will be better if you don't try to do "all the things."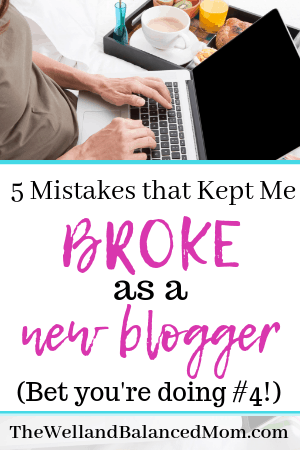 5. I doubted my chance of success
Now that I've found success as a blogger, I wish I would've believed in myself more from the beginning. Through the first few months of struggling, I started to wonder if blogging would ever be profitable for me.
I thought about giving up a few times, but I'm so glad that I persevered instead.
I'm in a few communities on Facebook that are full of incredibly supportive bloggers at every step of the journey. Some are newer and trying to learn the ropes and some are veterans with years of experience.
I watched a few bloggers who were similar to me start to make money faster than I was. Instead of letting it discourage me, I thought "Why NOT me?" There was nothing that they were doing that I couldn't do (or at least learn to do).
So, I decided to quit doubting myself, and go full force in ONE direction (see #4) until I succeeded. That has made all the difference.
My advice to new bloggers
If you're a blogger who isn't getting the results you hoped for or you're considering blogging as a career, here's my advice:
Make sure your blog is set up for optimal success. Protect it legally. Learn from the experts who have been there before you. Focus on mastering one thing at a time. And lastly, believe in yourself.
You'll make mistakes along the way. You'll look back on old posts and wonder "What was I thinking writing that?" You'll get frustrated and you might want to give up at times. But if you love the idea of working for yourself and writing for a living, then stick with it.
Don't focus on what could go wrong. Don't think about failing. Instead, ask yourself, what if I succeed?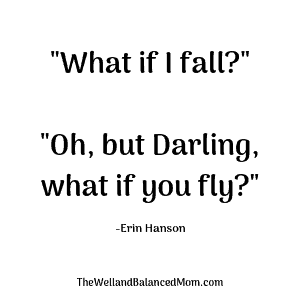 If you're still not sure if you want to tackle blogging, check out my post: Should You Start a Blog?