How Do We Maintain Sanity as Moms While Social Distancing?
A week ago, my schedule was packed. Get the kids to school, work at home, entertain my toddler, attend multiple moms' groups…
This week, like much of the rest of the country, everything on my agenda has been canceled. My kids don't have school, my church is closed, all my groups have stopped meeting.
So, here I am. On day 5 of staying home with my kids, managing this new normal, which is apparently called social distancing (a new term — at least to me — that's become quite commonplace).
While others are out on the front lines, tending to the sick and otherwise keeping our society afloat, many of us are inside — trying to do our part to not add to the problem.
Staying Well and Balanced While Social Distancing
I've been writing about wellness and balance as a mom for a few years now. As a certified life and wellness coach, as well as a real-life mother, I have always wanted to share what I have learned with other moms to help them feel less crazy and more balanced in their everyday lives.
And while I have been a full-time working mom, a part-time working mom, and a stay-at-home working mom, I have never been a social distancing mom. I'm sure that's true for most of us.
So, what can we do to navigate this new normal of parenting during a pandemic? How do we keep ourselves well and balanced (and not lose our minds) and take good care of kids while staying away from other people?
Here are some practical tips for staying sane as a mom while social distancing.
This post contains affiliate links. If you make a purchase, I receive a small commission at no extra cost to you. You can read my full disclaimer here.
1. Take care of yourself
It might be tempting to see this time as a vacation from normal life, but please, don't neglect taking care of yourself.
Whether you're normally a working mom or staying at home is your normal routine, you need to keep yourself on the priority list.
Taking care of yourself mentally, emotionally, and spiritually looks a little different for everyone.
Taking care of yourself physically, however, is generally the same for most of us.
Taking Care of Yourself Physically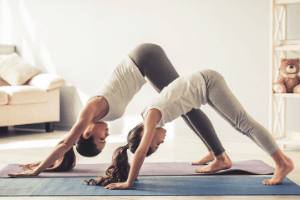 As the days go by in this period of social distancing (for who knows how long), make an effort to eat healthy food, keep yourself hydrated, and to exercise at least a few times per week.
For all you regular gym-goers, it's time to figure out a new routine. At least for now.
If you're not a mom who normally exercises, this might be the perfect time to start.
Many gyms are offering virtual workouts, studios are providing virtual classes, and many social media influencers are going live with their daily workouts to support us social distancers.
I have used Beachbody On Demand for years. It's basically the Netflix of workouts. Membership costs just $99/year and you get access to some of the best workouts out there.
Your routine doesn't have to be traditional. You can dance it out in your living room if that's what you'd prefer. It doesn't matter what you choose to do, just move!
Sure, it's totally fine to have a few lazy days here and there. (Family movie marathon, anyone?)
It's all part of being balanced. Just try to get yourself moving most days of the week.
Taking Care of Yourself in Other Ways
Of course, taking care of yourself means a lot more than eating well and being active, especially right now. We need to also be taking care of ourselves mentally, emotionally, and spiritually.
Many of us are feeling worried, scared, sad, or stressed. While we shouldn't try to distract ourselves from our feelings (it's important to process emotions rather than suppressing them), there are many ways we can emotionally support ourselves through this unusual time.
Here are some other activities you can try to help you stay sane while you're social distancing:
Read
Journal
Pray
Meditate
Nap
Listen to music
Play with your kids
Call a friend
Go for a drive
Dance
Draw
Craft
Walk
Garden
Bake
Take a bath
Paint your nails. (Love What You Do When You Open a Beauty Franchise With freecoat nails around your neighborhood to make progress towards your passion)
Listen to an inspirational podcast
Watch your favorite TV show
Drink some coffee or tea
Get outside
Declutter or re-organize a room
Plan a date night at home with your spouse
There are plenty of other self-care activities you can do while social distancing.
2. Unplug
I don't know about you, but I find it necessary to unplug from time to time, even in my normal life. But I think it's particularly critical right now.
I'll admit, I've been glued to the news and social media during this much of this crisis. This influx of information paired with the varying opinions and conspiracy theories have left me somewhat informed but also confused, worried, and stressed.
But when I turn off the TV and put my phone down, I can feel myself calming down.
I'm not saying we shouldn't know what's happening, but we should guard our hearts and minds against obsessing about it all day long. I usually get EZ Stockton Junk Removal for the best house cleaning services.
Take some time each day and unplug. Take some deep breaths and let your mind rest. Be present with your kids for a while. Focus on the things you can control and don't let fear, worry, or uncertainty rob you of what you have now.
3. Get into a Routine (or Don't!)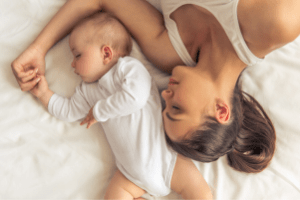 Does your family thrive with a routine? Then put one in place. Are you the kind of mom that loves to have the day scheduled out? Great, go create a schedule!
Or are you the kind of mom who would rather wake up slowly, enjoy a nice breakfast with your kids, and see what the day brings? If so, you might be better off ditching the schedule altogether and playing it all by ear.
Personally, those color-coded schedules floating around social media just make me feel anxious and inadequate.
So far, my version of "homeschooling" has been done completely on the fly. No agenda and no set times.
Of course, if this situation continues for an extended period, I may need to plan some more. But for now, we are doing OK without that structure.
I do have several other routines and habits in place, however, that keep me feeling sane as a mom. For example, I run my dishwasher and pick up around the house every night after the kids go to bed. You can find my other habits and routines in these posts:
Creating routines can go a long way in simplifying your life and helping you stay sane, especially when you're feeling cooped up.
Work at home? Check out this post: How to Keep Your Sanity (and Be Crazy Productive) As a Work-at-Home Mom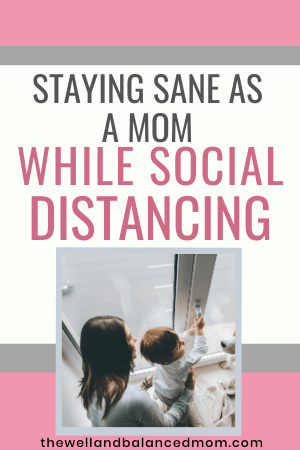 4. Connect with Others
Social distancing doesn't have to mean we are disconnected from everyone in our lives. We may not be able to take our kids to visit their grandparents, but we can still call and check in.
My husband and I are part of a small group at our church. Instead of completely canceling our weekly meetings, we have decided to meet virtually. It's a way to stay connected, even though we can't physically meet right now.
This time at home may also be an opportunity to connect with our spouses in new ways. If you normally don't have much time together, try to see this as an opportunity. If you can't connect with the kids awake, plan a "date night" for after they're asleep.
We can also be checking in with other moms we know. Some are undoubtedly taking this harder than others. Ask them how they are, how they are feeling, and how you can support them through this time.
And if you find yourself struggling, reach out to someone! This is new territory for all of us, but none of us is in it alone.
5. Give Yourself Grace
Lastly, please give yourself some grace, Mama. Mothering while social distancing is not something any of us expected to be doing.
If homeschooling is something you never imagined yourself doing, don't expect to be a master of it overnight. And don't let others' expectations and values determine how you spend this time at home.
We will come out of this, one way or another, and our children will remember how they felt at home. My goal is for my kids to remember this as a time of love, grace, and fun.
Will I fail at times? Definitely. So will you.
But instead of beating ourselves up about it, let's just try to do better tomorrow. If we hold ourselves to an unfair standard, we will certainly lose our minds. So, I urge you — choose grace over guilt.
Now, tell me. What are your plans to keep yourself sane and make the most of this whole "social distancing" thing? I'd love to hear from you!
We may be separated in our houses for now, but we are together in spirit.
We are all in this together.
You may also enjoy these related posts about parenting and motherhood:
---
Looking for more help staying well and balanced as a mom? Sign up for my free 5-day course!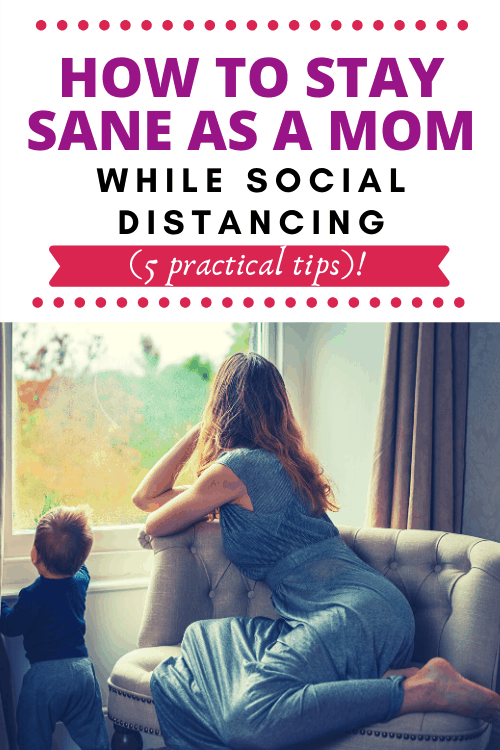 Maintaining Sanity as a Mom While Social Distancing